Our easy DIY install Wet Wall panels are the best alternative to tiles in Australia, they are:
Full height floor to ceiling decorative, click together waterproof panels, designed for areas subject to frequent wetting as well as standard rooms. Ideal for bathrooms, bedrooms, laundries, shower areas, changing facilities & food prep areas.
Your full bathroom covered in a day!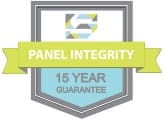 All panels are 2.4m x 1m. The White Gloss and Carrara Marble are available in 2m sizes.
If you need to achieve heights higher than 2.4m, we advise using a H trim.
Cutting
When cutting the panels to width and height using a handsaw, the decorative face should be facing upwards. When cutting with a jigsaw or circular saw, the decorative face should be facing downwards.
Apertures
A clearance of 2-3mm should be left where pipes or fittings come through the panel even where collars are to be fitted. The clearance should then be filled with iSeal silicone sealant.
Sealing
If a bottom seal is not being fitted then a 2-3mm gap should be left between the bottom of the panel and the shower floor, tray or bath by using packers when fixing panels. The gaps should then be sealed using ProStick – iSeal silicone sealant. iSeal silicone sealant should also be used in all the corner trims and capping profiles.
Wall Surfaces
The panels can be fixed to most surfaces using adhesive, providing they are sound and free from loose particles. The panels can also be fixed directly onto existing tiling providing they have been de-greased.
Fittings
Fittings and shower attachments can be fixed directly to the panels using suitable fixings. Heavier items such as sanitary ware and accessible furniture will require the provision of additional support behind the panels.
Two Sided Shower Installation
Fit an internal corner profile into the corner using appropriate fixings (screws), ensuring that the heads are countersunk to prevent fouling when fitting the panel.
Remove the film from the face of the panel and check for defects prior to cutting to size.
Apply a bead of sealant into one side of the internal corner profile, the amount of sealant applied should cover the channel bottom to a depth of at least 2mm.
The panels should be fitted such that a gap is formed between the bottom of the panels and the shower tray of between 3-4mm this should be filed with iSeal sealant and cleaned off flush with the front of the panels once all the panels have been fitted.
If end cap profiles are being used then these should be fitted to the outer edges of the panel now.
Apply a generous amount of adhesive in "snakes" to the panel and fit into place ensuring that the edge of the panel is inserted into the internal corner and a good seal achieved.
Repeat sections 2-6 for the remaining panels.
Installation Guides & Documents Downloads